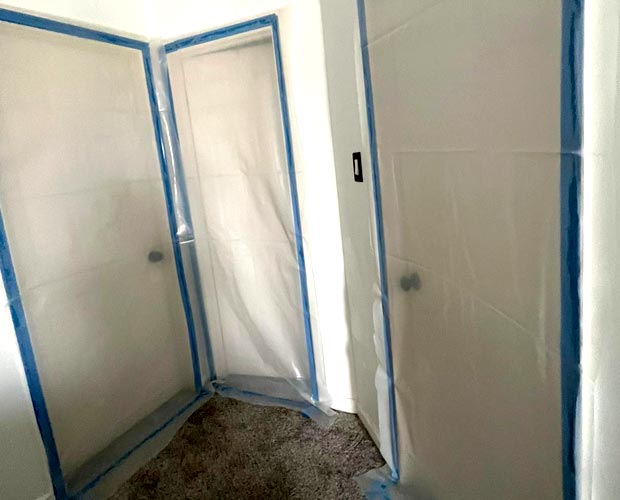 We don't wait for mold to get worse. We
act!
Contact us now to schedule your mold inspection
Step 4: Mold Removal and Antimicrobial Treatments
Now that we have completed the steps of mold inspection, mold prevention, and mold containment, we can move on to Step 4: Mold Removal.
To thoroughly clean a space, physical mold removal and antimicrobial treatments are required. Mold can create a variety of health issues, but with proper management by an experienced, well-equipped team, these issues can be handled quickly.
Importance of Mold Treatment
Mold, or more specifically the spores and toxins released by mold, can create health issues ranging from a mere inconvenience to a serious concern. The mere sight of mold is enough motivation to have your property treated, but when you understand the health risks, you'll be quick to have it cleaned from your home!
Potential health concerns can affect your skin, lungs, eyes, and even your cognitive abilities. According to the Centers for Disease Control, health issues related to mold include:
Stuffy nose
Sore throat
Wheezing
Burning eyes
Skin rash
People with asthma are particularly vulnerable because mold can trigger asthma attacks. It can also create allergic reactions on the skin and face. People who suffer from chronic lung disease may have trouble breathing if there is a high concentration of mold spores in the air.
There is even scientific evidence that mold exposure can create lower cognitive function and depression.
The effects of mold can be scary, but there is good news: mold is fairly easy to clean, remove, and prevent. With mold treatment from a professional team, you can avoid the problems created by mold.
Equipment Used for Antimicrobial Mold Treatment
Cutting out mold-infested materials and antimicrobial mold treatment are fairly simple, but there is a long list of required equipment, tools, cleaning materials, and accessories that professionals use when treating mold.
Protective gear like gloves, suits, and goggles.
Removal equipment such as cutting tools and sanitation bags.
Cleaning equipment, including HEPA vacuums, brushes, scrapers, sandpaper, antimicrobial chemicals, and negative-air machines.
With these tools and materials, a professional team is equipped to handle any mold situation.
How do we Discard Moldy Materials?
We use a methodical, step-by-step process, which has proven to be effective in treating mold and keeping it away. Part of the entire process is discarding moldy materials. But you may wonder how we treat these materials and what we do with mold-infested items. Here's your answer:
Cutting Out and Disposing of Contaminated Materials
The first step is to cut out all mold-infested material that can not be cleaned, as well as damp material that may not be moldy but will not dry properly. Wet ceiling tiles and sheetrock, for example, must be cut away even if they do not show signs of mold.
Double-Packed with 6-mil Polyethylene Film
To properly package the moldy material, we double-pack them using a 6-mil polyethylene film. This keeps mold spores from escaping while the team is at work.
HEPA Vacuum Cleaner to Clean the Outside of each Bag
To further prevent future mold growth, we vacuum the outside with a HEPA vacuum cleaner. This is done to each bag for complete cleaning.
Wet the Outside of the Package for Transport from the Containment Area
We will then wet the outside of the package and transfer it from the containment area. This care will prevent mold from growing in a new location.
Repeating the process for each bag of contaminated material.
We perform this elaborate process on each and every containment bag. This meticulous process is essential for containing the mold inside the bags and reducing the chances of growth.
Our Process for Treating the Mold
Once all the contaminated material has been demolished, we'll proceed to the next phase, which is physically cleaning the contaminated area. This starts with scrubbing off visible mold and ends with literally throwing away contaminated protective equipment.
Manual Scrubbing and Scraping
First we physically scrape and scrub the mold using brushes, scrapers, and other equipment. This is a physically-demanding step that often requires a large team to complete.
Apply Concentrated Chemicals
Now we will use a variety of effective yet safe chemicals to destroy the mold. These antimicrobial chemicals disrupt the mold's lifecycle and help sanitize the area.
Wet-Vacuuming
Thoroughly vacuuming the area is now required. Using highly effective vacuums, we ensure that all loose materials, as well as the mold itself and any remaining chemicals, are properly vacuumed.
Sanding
Mold can be extremely stubborn. To help the cleaning process, we will sand certain areas with a grit that helps expose more mold, making it even more vulnerable to antimicrobial treatments.
Clean the Air with a HEPA-Filtered Negative-Air Vacuum
A negative-air machine is essentially a vacuum that runs air through a HEPA filter, which filters out a high percentage of contaminants. It's called "negative air" because it exhausts the air outside, keeping the room under constant negative pressure.
The Next Important Action: A Thorough Cleaning
Now the mold has been sent packing, but we still need to ensure it can't come back, at least not easily! To do this, we go through an elaborate cleaning and sanitation process.
HEPA vacuuming
We'll now vacuum, but we don't use any household vacuum cleaner. We use a HEPA vacuum, which moves the air through an advanced HEPA filter before cycling it back into the room. A HEPA filter is rated to remove 99.97% of all particles as small as 0.3 microns.
Wipe down the Area with Antimicrobial Cleaner
We'll now go through the area and thoroughly wipe down all surfaces using an antimicrobial cleaner. This will destroy any mold spores that may have survived the cleaning process and further reduce the chances of mold growth.
Cleaning the air
Mold spores are released in extremely high numbers. Although invisible to the naked eye, there will still be lingering spores in the air, so we will clean the air and reduce the concentration of spores.
When Needed: A Complete Cleaning and Sanitization of Air Ducts
During the inspection phase, we will identify problem areas of the home or building and find all mold growth. This inspection includes the duct system. If needed, we will clean the ducts so mold spores can't spread when the air is turned on.
The Outcome: A Clean, Healthy Space
With the mold treatment applied, the area sanitized, and steps taken to prevent further growth, you are left with an area that can be enjoyed once again! Whether it's a basement living room, bedroom, bathroom, or an entire house, you'll be able to use the room for its intended purpose without worrying over the health issues caused by mold.
What can Happen if Mold is not Treated Properly?
We admit, our process is fairly detailed. While the goal is simple (treat mold and prevent it from returning) the process includes numerous steps that take time, energy, and a large assortment of equipment.
So why go to the trouble? Why not just clean the mold with some household materials and avoid the time and cost of a thorough professional cleaning?
Because if mold is not properly treated, cleaned, and sanitized, the area can become infested with mold all over again. In that case, your efforts, however well-intentioned, will be wasted.
It's far better to do it right the first time than to do it all over again!
The next step is restoration, which will return the space to its original quality.
Why Choose Mold Act for Professional Mold Remediation Services?
It may be tempting to try mold cleaning on your own. However, there are many reasons why you should hire a professional team like Mold Act. You'll get thorough start-to-finish services that include a complete mold assessment, proper treatment, and mold prevention.
Mold remediation and treatment requires experience, knowledge, and proper equipment, so make sure it's done properly by hiring an expert.
Don't Let Mold Impact Your Home Another Day!
Get high-end mold remediation and treatment services from an experienced professional. Contact our team for the service and support you deserve!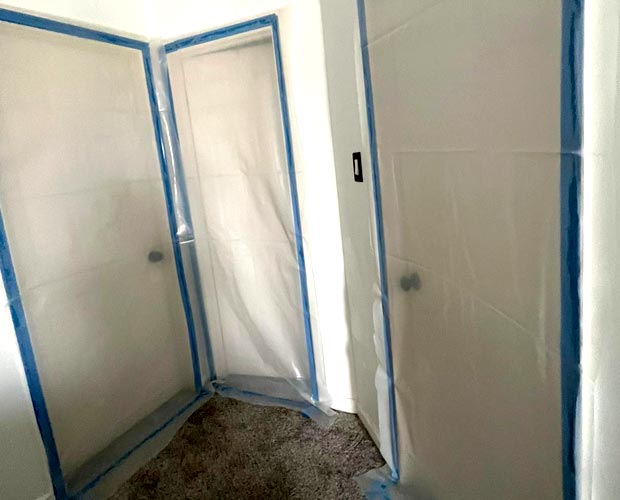 We don't wait for mold to get worse. We
act!
Contact us now to schedule your mold inspection
Residential & Commercial
Mold Remediation Services
"Alex was our service tech. From day one he was thoughtful, responsive and honest. We used his bid over several others and were very pleased with his service. If you use this company, definitely ask for Alex! He was terrific."