Mold Removal and Remediation in Hollywood, FL
At Mold Act of Hollywood, we take pride in our professional mold treatment services available to residents and business owners in Hollywood, Florida. Our local business prioritizes providing safe and healthy environments, recognizing the significance of effective mold control for any type of building. Mold is a prevalent issue in both residential and commercial properties, posing risks to both health and property. Our complete mold treatment process offers the solution to mold problems from start to finish, ensuring optimal results.

GREAT REPUTATION
Highly rated by our satisfied customers
"I am so grateful for the mold treatment services provided by this company. They were very responsive, and their team arrived on time to complete the job. Their work was thorough and effective, and my basement is now mold free."
Mold at Your
Home or Business?
We Can Help!
Fill out our convenient form and we'll get back to you within 24 hours.
John S.
Our local technician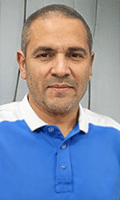 "I am so grateful for the mold treatment services provided by this company. They were very responsive, and their team arrived on time to complete the job. Their work was thorough and effective, and my basement is now mold free."
Why Mold Growth is a Common Issue in Homes and Businesses
Mold growth can occur in any property due to factors like excess moisture, water leaks, or poor ventilation. Hollywood, FL's humid climate further contributes to mold proliferation. Our expert team of mold remediation specialists is equipped with the knowledge and tools to combat mold growth effectively whether it is toxic black mold, green or yellow type of fungi, providing you with peace of mind.
HIGHLY-TRAINED TECHNICIANS
Our specialists are certified by the Institute of Inspection Cleaning and Restoration Certification (IICRC) in mold remediation, to make sure your property is handled correctly, by the most updated procedures and methodology.
We don't wait for mold to get worse. We
act!
Contact us now to schedule your mold inspection
Our Mold Treatment Process
At our mold remediation company, we follow a thorough mold treatment process to ensure complete eradication and prevention of mold recurrence. This process includes:
Mold Assessment:
We conduct a comprehensive assessment to identify the extent and causes of mold growth.
Containment of Mold-Infected Areas:
We isolate and contain the affected areas to prevent cross-contamination.
Demolition of Not Restorable Items:
Any severely affected materials or items that can't be salvaged are safely removed.
Mold Removal and Treatment:
We employ proven techniques to eliminate mold and treat the affected surfaces with anti-fungal solutions.
Air Filtration:
Our advanced air filtration systems help remove mold spores from the air, ensuring cleaner indoor air quality.
Final Clean Up, Disinfection, and Sanitizing:
We thoroughly clean and sanitize the treated areas to restore a safe and healthy environment.
Post-Removal Inspection:
We conduct a meticulous inspection to ensure the successful removal and treatment of mold.
We Can Help with Toxic Black Mold Removal Too!
We specialize in handling toxic black mold, a particularly harmful type of mold. Our experienced team is trained to safely and effectively remove black mold, ensuring the well-being of you and your loved ones.
What Properties We Serve
Our mold treatment services are tailored to cater to a wide range of properties, including both commercial and residential spaces. We understand that mold can affect various environments, and we have the expertise to handle mold treatment in different settings. Here are some examples of the properties we serve:
Mold Treatment in Commercial Properties:
Restaurants and Cafes: Mold growth in food establishments can be a serious health and safety concern. Our team is equipped to handle mold treatment in restaurant kitchens, dining areas, and storage spaces.
Hotels and Resorts: Maintaining a mold-free environment is crucial for the hospitality industry. We provide mold treatment services for hotel rooms, shared areas, and other hotel facilities.
Offices and Commercial Buildings: Mold can thrive in office buildings, leading to potential health issues and reduced productivity. We offer mold treatment solutions for office spaces, conference rooms, lobbies, and other commercial areas according to EPA recommendations.
Educational Institutions: We also offer mold removal services for schools, universities, etc. We understand the importance of maintaining a safe and healthy environment for students, staff, and visitors in educational institutions. Our team has experience in handling mold issues in schools, ensuring thorough mold removal and treatment in classrooms, administrative areas, gymnasiums, and other spaces.
Governmental Properties: We are also competent in providing mold removal services for various governmental properties, including offices, libraries, community centers, and more. We recognize the significance of maintaining mold-free environments in these spaces to promote the well-being of employees and the public.
Mold Treatment in Residential Properties:
Single-Family Homes: Mold can affect any area of a home, from basements and attics to bathrooms and kitchens. We provide comprehensive mold treatment services for all parts of residential properties.
Apartments and Condominiums: Mold issues can arise in multi-unit residential buildings. Our team has the experience and knowledge to address mold problems in apartments and condominium complexes.
Townhouses and Duplexes: Mold growth can impact townhouses and duplex units, affecting the health and safety of residents. We offer mold treatment services for these types of properties to ensure a mold-free living environment.
Regardless of the property type, we bring our expertise, specialized equipment, and proven techniques to effectively treat mold infestations. Our team understands the unique challenges that each property may present and tailors our services accordingly to achieve optimal results. Trust us to restore a mold-free and healthy environment for your property.
What Parts of the Building We Treat from Mold
Our mold treatment services extend to attics, basements, kitchens, bathrooms, and other areas where mold can thrive. We are well-versed in the unique challenges each area presents, and our expert team is skilled in effective mold remediation for all parts of your property.
How Long Does Our Mold Remediation Take in Hollywood, FL Properties?
The duration of mold remediation depends on the extent of the mold growth and the size of the property. Our team will assess the situation and provide you with an estimated timeline during the initial consultation.
Here are a few examples of estimated timelines for mold remediation based on different scenarios:
Small Residential Property:
For a small residential property with minimal mold growth, the mold remediation process typically takes around 1 to 3 days. This includes assessment, containment, removal, treatment, and final cleaning.
Large Residential Property:
In the case of a larger residential property with moderate mold growth, the timeline may extend to around 3 to 7 days. The size of the property and the complexity of the mold infestation may require additional time for thorough treatment.
Commercial Building:
Mold removal and treatment in a commercial building can vary significantly based on the size and purpose of the space. The timeline may range from 1 week to several weeks, depending on the extent of mold growth, the size of the building, and the required remediation procedures.
It is important to note that these timelines are approximate and subject to change depending on specific circumstances. Our team will conduct a detailed assessment of your property during the initial consultation and provide you with a more accurate timeline tailored to your unique situation.
Our Mold Treatment Prices in Hollywood, FL
The cost of mold treatment depends on various factors, including the extent of the mold growth and the scope of the remediation required. We offer fair and competitive pricing, and we provide a free estimate to give you a clear understanding of the costs involved. Our pricing is transparent, and we strive to provide cost-effective solutions tailored to your specific needs.
We understand the importance of budget considerations, and we work with you to find the most suitable options for your mold treatment requirements. Our team is committed to delivering exceptional value for your investment, ensuring you get the highest quality service without spending a lot of money.
With our comprehensive approach and competitive pricing, you can trust us to provide the best mold treatment services in Hollywood, FL. We prioritize your satisfaction and the health of your property, offering effective solutions that fit your budget.
Don't hesitate to reach out to us for a free estimate at 754-544-2690! We'll be happy to discuss the specifics of your mold treatment needs and provide you with a detailed breakdown of the costs involved. Trust our expertise and commitment to excellence as we work together to restore a mold-free and safe environment in your property.
Why Choose Our Local Business for Mold Treatment
Choosing our local business for mold treatment in Hollywood, FL offers a multitude of advantages that set us apart from the competition. Here's why you can confidently trust us for your mold treatment needs:
We are Certified and Licensed
Our team is certified and licensed in mold remediation, ensuring that we adhere to industry best practices and maintain the highest standards of service and professionalism. You can have peace of mind knowing that your mold treatment is being handled by qualified experts.
Prompt and Efficient Processing
We understand the urgency of mold issues and the disruption they can cause. That's why we prioritize prompt and efficient processing to minimize inconvenience for you. Our team works diligently to schedule appointments, conduct assessments, and complete the remediation process in a timely manner.
Fair and Transparent Pricing
We believe in providing fair and transparent pricing for our mold treatment services. We offer competitive rates and will provide you with a detailed breakdown of the costs involved upfront. There are no hidden fees or surprises. Our goal is to provide cost-effective solutions without sacrificing the quality of our services.
Free Estimate and Clear Process
We offer a free estimate for your mold treatment needs. Our experts will assess the extent of the mold growth and provide you with a comprehensive evaluation of the required remediation steps. We believe in transparency, and our team will clearly outline the process, addressing any questions or concerns you may have along the way.
Mold-Free Property Guarantee
We stand behind the quality of our work. Upon completion of the mold treatment, we guarantee a mold-free property. Our team conducts thorough inspections to ensure that all mold has been successfully removed and treated. Your satisfaction and the health of your property are our top priorities.
Contact us today to experience the difference our mold treatment services can make in maintaining a safe and healthy space for you and your loved ones.
Call Today and Make Your property Mold-Free Again
By choosing Mold Act of Hollywood, you gain the assurance of working with certified professionals, receiving prompt and efficient service, and enjoying fair and transparent pricing. We go above and beyond to deliver exceptional results and provide you with a mold-free living or working environment.
Don't let mold compromise your health and property. Call at 754-544-2690! for reliable mold treatment services in Hollywood, FL, and experience a mold-free and safe living environment.
Answering Frequent Questions
Is mold a real problem in Hollywood, Florida?
Yes, mold can be a significant problem in this region due to its warm and humid climate. The combination of high temperatures and abundant moisture creates an ideal environment for mold growth. Florida's frequent rainstorms, hurricanes, and high humidity levels contribute to increased mold risks in homes, businesses, and other properties. It is crucial for residents and property owners in Florida to be proactive in preventing and addressing mold issues to maintain a safe and healthy living or working environment. Regular inspections, prompt remediation of water damage, and adequate ventilation are key measures to mitigate the impact of mold in Florida.
Is it safe to live in a house where mold grows?
Living in a house where mold grows can pose health risks. Mold can cause or exacerbate respiratory issues, allergies, and other health problems, particularly for individuals with sensitivities or compromised immune systems. It is essential to address mold growth promptly to ensure a safe living environment. Professional mold remediation is recommended to effectively remove mold, treat affected areas, and prevent its recurrence. By hiring our experienced professionals, you can minimize health risks and create a healthier living space for you and your family. It is crucial to prioritize your well-being by addressing mold issues and maintaining a mold-free home environment.
Does my insurance cover mold remediation in Hollywood, FL?
Insurance coverage for mold remediation varies. We recommend consulting your insurance provider to determine your specific conditions.
Is it safe to live in a house during mold remediation?
The safety of living in a house during mold remediation depends on the extent of the mold growth, the size of the affected area, and the specific remediation process being implemented. In some cases, it may be possible to continue living in the house while remediation takes place, especially if the affected area is isolated and proper containment measures are in place. However, it is crucial to follow the guidance and recommendations of the mold remediation professionals. They will advise you on necessary precautions, such as temporarily relocating to ensure your safety and minimize potential health risks.
Can you guarantee that mold will not come back after your mold remediation service?
While we can't provide an absolute guarantee that mold will never return after our mold remediation service, we take extensive measures to ensure effective mold removal and minimize the likelihood of recurrence. Our professional team follows industry best practices and utilizes proven techniques to address mold infestations.
During our mold remediation process, we thoroughly assess the extent of the mold growth, contain the affected areas, remove mold-infested materials, treat surfaces, and implement measures to improve ventilation and control moisture levels. We also conduct post-remediation inspections to verify the success of our efforts.
However, it's important to note that mold is a naturally occurring substance found in the environment, and it can reappear under certain conditions, such as unaddressed moisture issues or new water damage incidents. We provide recommendations for preventive measures to help reduce the risk of mold recurrence, such as maintaining proper ventilation, addressing water leaks promptly, and controlling indoor humidity levels.
Our goal is to provide you with a mold-free environment and ensure your satisfaction. In the rare event that mold does return, we are committed to working with you to assess the situation and determine the appropriate course of action. Your trust and satisfaction are of utmost importance to us, and we strive to deliver the best possible results with our mold remediation service.