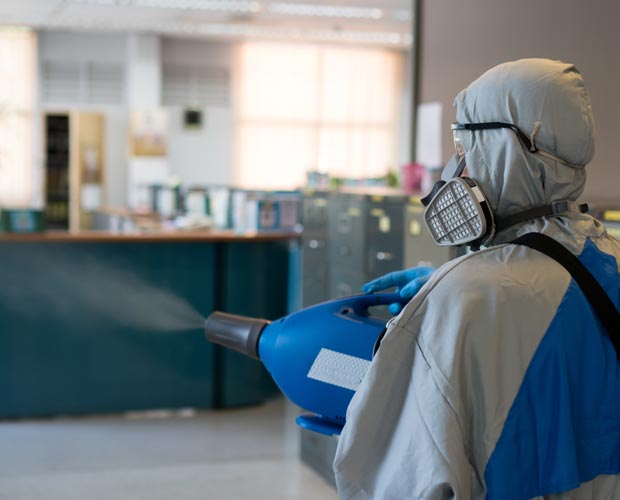 We don't wait for mold to get worse. We
act!
Contact us now to schedule your mold inspection
Commercial Mold Damage
Do you own or manage a commercial property or business? If so, then you already know that commercial mold damage is one of the most destructive forces that can threaten your building. Mold has been known to cause costly damage, not only in terms of structural integrity but also through health complications for those who come into contact with it. As a commercial mold damage company, the main goal of the Mold Act team is to help you learn how to prevent, identify, and remediate mold.
How Can Mold Affect Your Business?
Commercial mold damage has a direct impact on how a business operates. ?From significant health complications to structural damage, here are four ways mold can affect your business?
Health problems your employees might experience
Staff and employees operating in a mold-infested building may begin to experience symptoms such as runny nose, watery eyes, itchy skin, and coughing. It is also believed that mold can cause more severe symptoms, including brain fog and joint pain.
Health problems for your customers/visitors
Mold can also affect clients, customers, and visitors who enter your building. They may also experience allergy-like symptoms or other health complications.
Causing damage to your building's structure
Mold in commercial buildings can eat away at building materials and damage the structure. ?In turn this can lead to costly repairs in the future.?
Lowers the quality of a first impression for customers
Customers that enter your facility may leave with a poor impression of the business due to the smell and sight of mold.
Causes of Mold Growth in Commercial Buildings
There are several contributing factors to commercial mold damage? We all know that water intrusion and leaks are a perfect recipe for mold growth, but what allows for the water intrusion, leaks, and rise in moisture? The following three factors can play a pivotal role in creating excess moisture and allow for water intrusion.
Building Age
Building elements and structures breaking down from age, including roofs and other exteriors, allow for water intrusion and ultimately mold growth.
Building materials
The materials used to build your commercial space can have a direct impact on mold growth. Common materials that are prone to mold are drywall, wood, and stucco.
Ventilation system
Poorly constructed or dirty ventilation systems can also lead to mold growth in commercial buildings. An inadequately regulated indoor climate is part of the perfect recipe for mold.
How to Prevent Mold From Appearing at Your Business Place
Although we can help you remediate current commercial mold damage, it is also important to discuss prevention techniques. By taking quick action and precautionary steps, you can save yourself from a costly mold remediation bill in the future.
Take care of spills & fix leaks and water damage ASAP. Excess moisture is a quick way to produce mold. So always make sure you clean up spills, leaks, and water damage quickly.
Install proper HVAC system. Regulating the climate is a huge part of mold prevention. By installing a proper HVAC system, you can filter the air and ensure adequate climate regulation.
Monitor humidity levels. A humidity/moisture level above 55% is enough to start producing mold without another source of standing water like from a leak. So try to monitor your humidity with a dehumidifier or humidity monitor.
Do a regular visual inspection of problem places. Inspecting your property for mold damage regularly is the first step to preventing it. Keep an eye out for problematic or common mold growth areas, such as underground rooms, ceilings, and walls that house plumbing.
Is Mold Removal in a Commercial Building Covered by Insurance?
Mold can be a serious hazard in a commercial building, leading to structural damage and potentially hazardous air quality. Whether the cost of removal is covered by insurance depends on your policy and situation. Generally, if the mold was not pre-existing before the policy went into effect, or if it was caused by sudden accidental damage to the building, then it may be covered. However, it's important to talk with your insurance provider so that you can fully understand if commercial mold damage is covered. Once you have your answer and are ready to proceed with mold remediation, you can contact us at Mold Act, a commercial mold damage company.
What Should You Do If You Have Mold in Your Commercial Property?
If you suspect that mold is growing in your commercial building, you need to contact Mold Act!? As a commercial mold remediation company, we can help make your building safe and ready for operation again. Give us a call at 877-660-0430 to consult with a specialist today.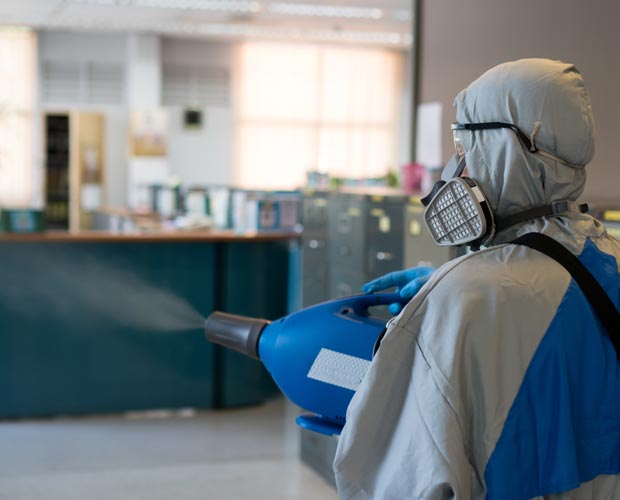 We don't wait for mold to get worse. We
act!
Contact us now to schedule your mold inspection
Residential & Commercial
Mold Remediation Services
"Alex was our service tech. From day one he was thoughtful, responsive and honest. We used his bid over several others and were very pleased with his service. If you use this company, definitely ask for Alex! He was terrific."