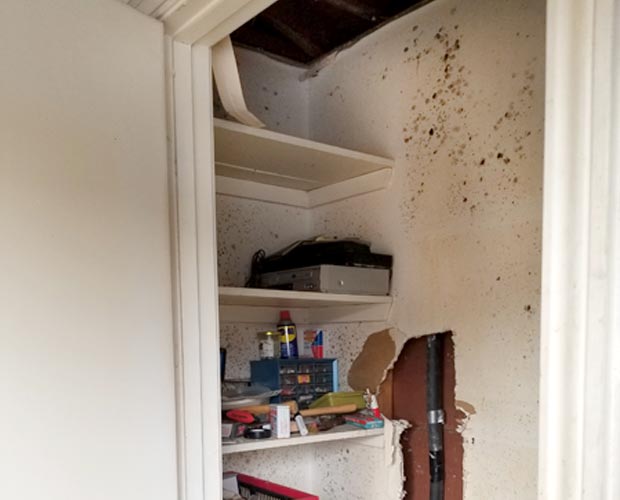 We don't wait for mold to get worse. We
act!
Contact us now to schedule your mold inspection
What To Do If You Find Black Mold in Your Apartment
Mold infestation in an apartment is a problem that must be resolved immediately. The moment you see signs of it, you should take action.
Black mold, or Stachybotrys chartarum, is one of the most dangerous types of mold. In this article, we dive deep into the dangers of having black mold in an apartment and what you can do about it.
Can Black Mold in Apartment Make You Sick?
Black mold affects people differently, and you shouldn't risk being anywhere near it. Those who are sensitive to spores or prone to allergies will almost certainly get sick if there is black mold in their home. They will develop respiratory illnesses if they inhale even just a small amount of spores.
The more moldy your home, the more you are at risk.
Mold is prone to spread too. According to the Federal Emergency Management Agency (FEMA), "Mildew and mold will develop within 24 to 48 hours of water exposure. Even worse, it will continue to grow until steps are taken to eliminate the source of moisture and effectively deal with the mold problem."
What Are the Potential Risks of Living in Moldy Apartments?
Mold primarily affects the respiratory system. The symptoms vary, but here following are the common signs of mold sickness, according to the New York Department of Health:
Nasal and sinus congestion
Coughing
Eye irritation
Difficulty breathing or wheezing
Throat irritation
Skin irritation or rash
Headache
The symptoms are worse for those who have chronic respiratory problems, such as asthma, emphysema, or allergies.
Those with compromised immune systems, such as pregnant people, organ transplant patients, patients undergoing chemotherapy, and those taking medication for chronic conditions, are also more sensitive to molds.
According to Medical News Today, it's even worse when black mold produces mycotoxins: "Mycotoxins from S. chartarum have a link to serious health problems in people who live in contaminated buildings. One such health concern is - mycotoxicosis mold poisoning."
The good news is mycotoxicosis is rare. However, it is still essential to get rid of mold with the help of our Queens mold removal services if you find it in your apartment.
Can You Clean Black Mold Yourself or Should You Hire a Professional?
It's prudent to hire a professional to help with mold removal. If you try to clean it up yourself, there is no guarantee that you can eliminate every bit of it. You may just end up spreading the spores all over your home.
At Mold Act, we don't just remove the mold. We treat the structure to prevent future mold infestations.
Here are the reasons why you should hire experienced professionals to remove black mold from your New York apartment:
Mold Act will assess the mold problem in your apartment.
We have the right tools and equipment to eliminate black mold.
We have a wealth of experience cleaning and sanitizing apartments after removing mold infestations.
Our team will give you tips to prevent another mold outbreak.
Mold Act technicians are licensed and certified to solve mold issues. We have the expertise about how to get rid of black mold.
How Much Does Apartment Mold Removal Cost?
Apartment mold removal cost depends on the size and accessibility of the affected area, the severity of mold growth, and other factors. If you have visible mold, we offer on-site inspections at $149 before discounts. If you choose Mold Act to remove your black mold, the inspection cost will be deducted from the final price.
Where To Call for Help With Mold?
Call us at 877-660-0430, and we will assess the affected area. You can talk to our specialist if you suspect a mold problem but don't see visible fungal growth. Send us your contact details here, and we'll get back to you about your mold issue.
Trust only licensed and certified professionals, like Mold Act, for black mold removal. We have the specialized knowledge, skills, and equipment to help.
Don't Wait for Mold Problem to Get Worse
As soon as you see even a hint of mold growth in your apartment, call Mold Act right away! You don't want the problem to get worse. Even if no one in your home is showing symptoms of respiratory illness, you shouldn't be inhaling the spores. Mold can spread quickly if you don't do anything about it.
Contact Mold Act today - our team of experienced technicians can get rid of your black mold problem in no time.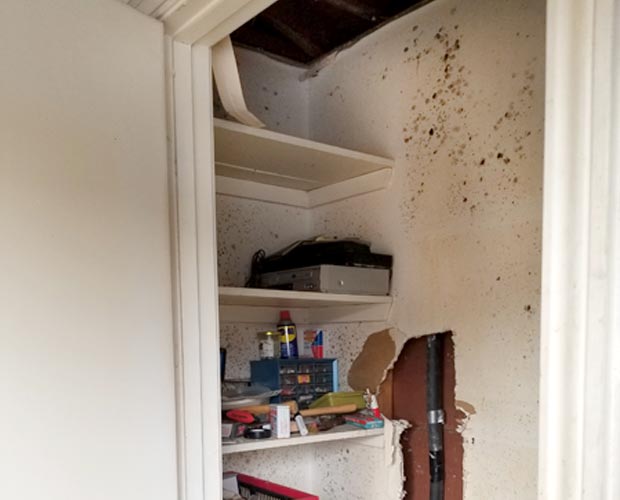 We don't wait for mold to get worse. We
act!
Contact us now to schedule your mold inspection
Residential & Commercial
Mold Remediation Services
"Alex was our service tech. From day one he was thoughtful, responsive and honest. We used his bid over several others and were very pleased with his service. If you use this company, definitely ask for Alex! He was terrific."