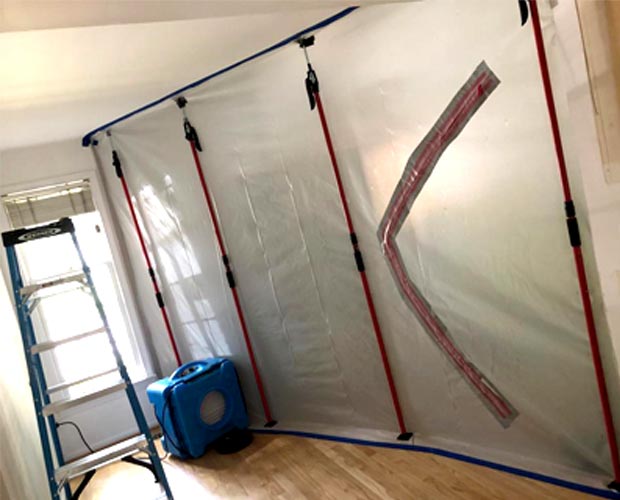 We don't wait for mold to get worse. We
act!
Contact us now to schedule your mold inspection
Mold Remediation Step-by-Step
In-house mold is nothing less than a curse. Seeing green or black moldy patches in any part of your home is a sign of mold contamination. With such situations prevailing in your home, there is a need to call our mold remediation team. If you delay the process for even a few days, the problem will spread to other corners of your home.
At Mold Act, you will find experts in the mold removal process. We perform removal through the following steps:
Our team identifies areas affected by mold growth. We make sure all contaminated spots are marked.
We seal off the work area. Through containment, we make sure no other unaffected areas will be contaminated during mold removal.
We make sure all mold is removed, either through cutting out and disposing of contaminated materials, or by using concentrated chemicals to clean mold from non-porous surfaces.
We also use highly effective HEPA filtering to remove excess mold spores from the air.
Your property is restored to its original condition, with all mold safely treated.
If you require, you can ask the team for sanitization services. Our priority is to make your home free of mold in every possible way.
How to Prepare for a Mold Removal Specialist Visit
When it comes to mold, homeowners cannot be negligent. You need professional help. Therefore, a mold removal specialist is a must. Here is some advice on what you should and should not do while you are waiting for our specialists to come.
Do Not Try DIY
In case of mold contamination, never jump to DIY solutions. These get you nowhere and create a bigger mess. No matter how convenient these DIY methods look, they do not provide results. Furthermore, without prior experience in the process, individuals can harm themselves. So, avoid DIY methods and trust our experts to do their job.
Don't Move Anything from the Affected Area
Whether the contamination is in your basement, attic, or any other, make sure to touch nothing. If you try to move furniture or any other items from the affected area, the contamination might spread. Moreover, if an item is contaminated and you move it to another location in your home, it will affect other spots. Therefore, let everything stay in its place before the visit of our mold specialist.
Make Sure Your Family and Pets Won't Enter the Area Before Or During Mold Remediation
Lastly, secure your family members' and pets' lives by not letting them enter the premises before and during the remediation process. Mold exposure won't do anyone any good. There is a reason why we wear personal protective equipment when we are dealing with mold! You could even temporarily shift to another place to save yourself from harm.
Mold Remediation Process
The remediation process is rather lengthy and detailed. Thus, you cannot skip even a single step. Usually, professionals from Mold Act perform remediation in the following way.
Mold Identification
The first step is to identify areas where moisture intrusion is causing mold to grow. Experts check every corner of your home to find unwanted leakages or signs of water damage. Whatever the reason is that there is excess moisture, it will need to be repaired for mold remediation to be successful.
Isolate Containment Area
Once all the mold in your home is identified, the next step is to isolate all contaminated areas. Using tape, we stick plastic sheets around the contamination. It helps prevent the spread of the problem. Specialists perform each step carefully and use the best protective gear to save themselves.
Air Filtration
After the isolation process, mold experts start filtering the air in your home. It helps remove all mold particles from the vicinity. You might not be able to see these microscopic mold particles, but they are present within a home and need treatment. At this stage, professionals use air filtration systems to eradicate all particles.
Cleanup and Mold Removal
We clean everything and remove visible mold. The process is carried out using chemical cleaners and professional equipment. During cleanup, these technicians remove all affected materials, like drywall and wooden structures. Anything damaged beyond a certain point needs replacement. If it is allowed to stay in your home, there are significant chances of recontamination. So, removal of affected material is as necessary as cleanup.
Antimicrobial Treatment
The cleanup process is followed by antimicrobial treatment. Here our professionals use chemicals to inhibit the growth of all microbes, including bacteria, mildew, algae, and fungus. The antimicrobial treatment eliminates all unwanted germs in your home and provides for a clean living space.
Final Inspection
After all these steps, the cleaning team performs one final inspection to ensure nothing is left untreated.
Why Choose Mold Act?
When it comes to mold cleanup, always trust professionals to perform the job. We have been in business since 2005. Our certified team members have years of experience and tend to your needs like no one else. Mold Act specialists perform each step with perfection and give you quality services. For this purpose, we use modern equipment and chemicals. It ensures that you get satisfactory results in every situation. So the minute you spot moldy patches in your vicinity, get in touch with our team members.
Call Mold Act for a consultation today!
You can trust us in every situation. Our experts are certified and trained to do their job. Moreover, our top-notch cleaning equipment performs wonders in the field. You only need to dial our helpline at 877-660-0430 and explain your problem. Mold Act sends an entire team to your location with all the cleaning supplies and makes your home free of mold.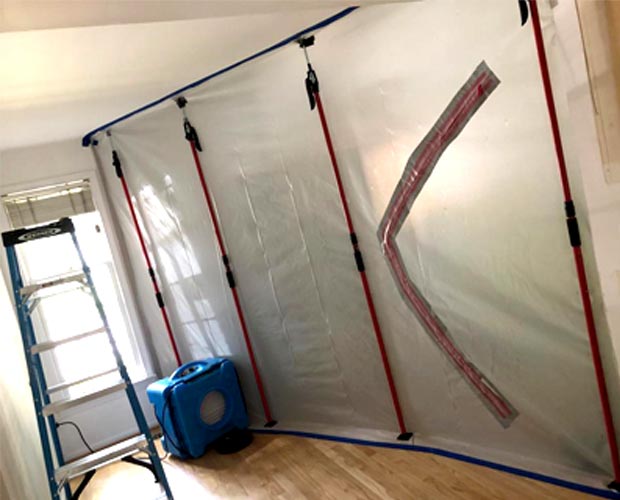 We don't wait for mold to get worse. We
act!
Contact us now to schedule your mold inspection
Residential & Commercial
Mold Remediation Services
"Alex was our service tech. From day one he was thoughtful, responsive and honest. We used his bid over several others and were very pleased with his service. If you use this company, definitely ask for Alex! He was terrific."