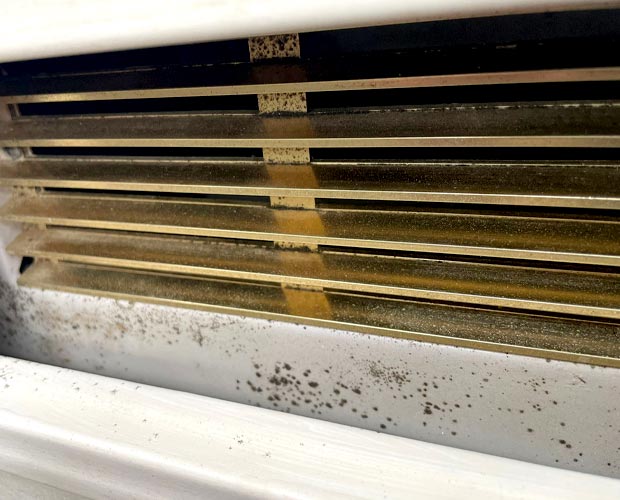 We don't wait for mold to get worse. We
act!
Contact us now to schedule your mold inspection
Mold in HVAC Systems: How It Can Affect Your Home or Business
Cleaning the interior of a home or business is standard practice for any of us who want to live in a healthy environment. However, when was the last time we thought about the cleanliness of the systems that help run our homes or offices?
While replacing the air filter on the HVAC system is one tedious job that we tend to forget; when was the last time the entire system was cleaned, if ever? Learn more about how mold can affect your home or business to keep any space as safe as possible.
Causes that Lead to Mold in HVAC Systems
Mold spores love to congregate in warm and wet environments, and the HVAC system can be a great spot for growth to occur. Humid and warm climates only add to the likelihood of mold finding its way into our HVAC systems. Mold needs an energy source to thrive and grow, and HVAC systems can be a great place for mold to feast on dust particles and dirty air ducts.
Another cause of mold growth in HVAC systems is that most systems are dark and closed off from view. This means mold has a quiet place to grow without us ever being able to see it from inside the home.
How to Identify Mold in an HVAC System
The best way to spot mold growth in an HVAC system is to smell the air coming from the air ducts. If you detect a musty odor pouring from your HVAC registers, it may be a good sign of mold growth. Another way to spot mold is to take off the air duct covers and peek inside the air duct line itself. If any spots or mold growth is visible, contact a professional mold removal company immediately.
The EPA suggests that an HVAC system should be turned off if a homeowner or business owner suspects mold growth. Continued use of the system could spread mold around the building, further exposing others to mold spores.
How Can Mold in HVAC Affect You?
There are many dangers of mold in HVAC systems. Not only can mold growth damage the building itself, but it can greatly affect the health of those within the building as well.
Sometimes mold exposure can cause medical issues in people more sensitive to allergens. Signs of mold in the home or office could include watery eyes, headaches, runny noses, or itching. Mold spores can also trigger asthma attacks which include trouble breathing. In emergency situations, prolonged mold exposure could cause significant harm or even death.
How to Prevent Mold in HVAC Systems
The best way to keep everyone in the home or office safe is preventing mold in the HVAC system from ever growing in the first place.
Keep an eye on water damage within the building, and if found, quickly fix the area to keep mold growth at bay.
Ventilate the building well with fans in steamy areas like kitchens and bathrooms.
Installing a dehumidifier can help reduce the amount of water vapor within the building, which can greatly reduce the likelihood of mold growth in the HVAC system.
Regularly inspect all areas of the building to gauge and spot any discoloration or mold growth. Make sure to include checking attics, basements, closets, and crawl spaces on a regular basis as well.
How to Remediate Mold in HVAC Systems
One of the best ways to fix any type of mold in an HVAC system is to hire a professional cleaner to provide mold removal and mold treatment services. Taking the DIY route may be tempting, but professional mold remediation service providers know what they are looking for and can quickly remove mold from the HVAC system. These industry professionals also know how to properly clean and disinfect the area so that we know that the job is done correctly.
How Can Mold Act Help With Mold in HVAC Systems?
Help is only one call away! Mold Act can quickly alleviate and clean out any HVAC system to restore the building to working order. Our professionals are certified in the industry and have the latest technology and treatments for mold removal.
Mold Act serves both residential and commercial spaces, and we have years of experience and training to get the job done right! Don`t wait until mold causes a health issue or damages an investment. Call Mold Act today at 877-660-0430!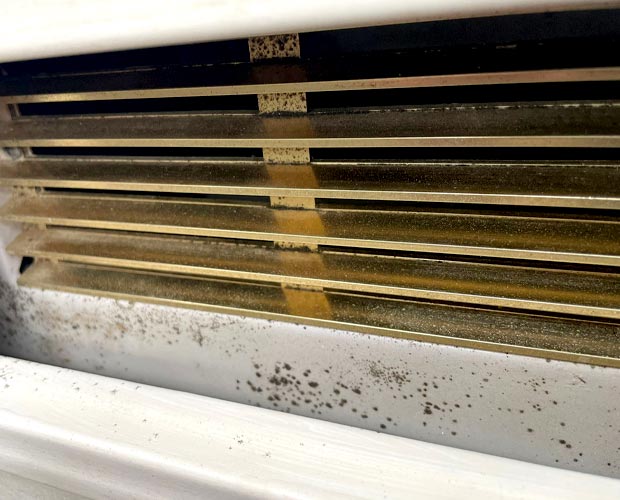 We don't wait for mold to get worse. We
act!
Contact us now to schedule your mold inspection
Residential & Commercial
Mold Remediation Services
"Alex was our service tech. From day one he was thoughtful, responsive and honest. We used his bid over several others and were very pleased with his service. If you use this company, definitely ask for Alex! He was terrific."